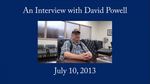 Title
David Powell, Oral History
Description
This is a video recording of an oral history with David Powell. It was conducted on July 10, 2013, on the campus of Texas A&M University-Commerce. The interviewer is Hayley Hasik.
In this interview, David Powell discusses his time serving as a photographer in the United States Navy during the Vietnam War.
Photographer's Mate 2nd class David Powell enlisted in the United States Navy on July 4, 1966. He completed basic training in San Diego and attended Photography School in Pensacola, Florida. After thirteen weeks of extensive photography training, Powell shipped out to Da Nang, Vietnam in June 1968. He was in the country for one year and eight days. During his year in Vietnam, Powell photographed a variety of subjects, including Vietnamese children and families, military actions, wounded U.S. soldiers, and U.S. planes spraying Agent Orange near his base. David returned stateside in 1969, but remained a Navy photographer until 1976, traveling to China, Japan, and back to Vietnam for a short time.
Department
Special Collections and University Archives
Identifier
2008-032_OH_01023-01_interview
Recommended Citation
Powell, David and Hasik, Hayley, "David Powell, Oral History" (2013-07-10). All Oral Histories. 8.
https://digitalcommons.tamuc.edu/scua-oral-history-all/8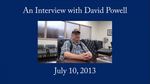 Subject
Oral histories; Vietnam War, 1961-1975; Photography, Military; United States. Navy; Agent Orange;
COinS
Rights Statement