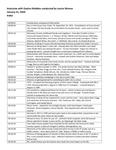 Description
This is an index of an oral history interview with Gaylon Maddox. It was conducted January 31, 2020. The interviewer is Louise Skinner. The videographer is Sandy Bond.
This interview focuses on Gaylon Maddox's memories of growing up in Delta County, Texas and his career as a registered nurse.
Madox was born to Tommie Calvin and Clarice Pendergrass Maddox on September 25, 1955. His early memories include watching the Christmas parade from Adair's Grocery on the Cooper Square, going to the Enloe Baptist Church and attending Cooper schools. He recalls the name of friends, teachers, and community members and his memories of them.
After high school, Maddox attended the Paris Junior College in order to become a registered nurse. He furthered his education at UT-Arlington with bachelor's and master's degrees. Maddox worked as a RN for forty-three years.
In addition to a career as a nurse, Maddox is also a musician. He became interested in playing the piano at a young age and has played for the Sunlight Quartet and the Stamps Quartet.
Department
Special Collections and University Archives
Identifier
2008-032_OH_01270_index
Recommended Citation
Skinner, Louise, "Gaylon Maddox, Oral History Index" (2020-01-31). All Oral Histories. 63.
https://digitalcommons.tamuc.edu/scua-oral-history-all/63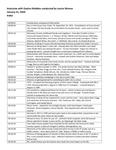 Subject
Delta County (Tex.); Cooper (Tex.); Nurses; Musicians; Oral histories;
Keywords
Delta County Oral History Project
COinS
Rights Statement