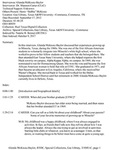 Description
This is an index of an oral history interview with Glenda McKissic Baylor. It was conducted September 17, 2012. The interviewer is Shannon Carter.
This interview focuses on Glenda McKissic Baylor's experiences attending high school and college during desegregation in Texas and her life as an educator.
Glenda McKissic Baylor was born in Mineola, Texas. The town of Mineola, including the school district was segregated until 1966. The school district participated in a transitional program, which started the desegregation process one year before it was to be mandated. Baylor was one of the first five Black students to be sent to Mineola High School. Baylor recalled that her experience during that transitional period was largely positive and that most students were cordial, though there were times when she had to endure racial slurs. Tension was generally higher the next year, when desegregation became law. According to Baylor, most of the discord focused on school athletics teams rather than other school activities. Following her high school graduation in 1968, Baylor began attending East Texas State University (ETSU), now Texas A&M University-Commerce (TAMUC), where she majored in business.
Baylor quickly became an active member of the campus community and contributed to the development and success of two organizations at the university. She was involved in founding a chapter of Alpha Phi Kappa, which later became part of the Alpha Kappa Alpha sorority. She was also a member of the Afro-American Student Society of East Texas (ASSET), which was instrumental in advocating for the needs of Black students on campus. She was crowned Homecoming Queen in 1968, becoming the first Black woman at the university to hold that honor. Baylor recalled how the occasion was very exciting for her, and on some level for all the Black students, because her victory was a sign of progress. She also recalls feeling uneasy at times, as well, because she was suddenly much more visible on campus.
After graduation from ETSU, in 1971, Baylor worked as a teacher and counselor in Los Angeles, California. She married James N. Baylor in 1979. She returned to Texas and served as a Dean of Instruction and an elementary school principal for Dallas ISD until her retirement in 2000.
Department
Special Collections and University Archives
Identifier
2008-032_OH_00939_index
Recommended Citation
Baylor, Glenda McKissic and Carter, Shannon, "Glenda McKissic Baylor, Oral History Index" (2012-09-17). All Oral Histories. 39.
https://digitalcommons.tamuc.edu/scua-oral-history-all/39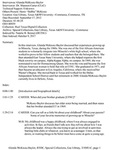 Subject
Segregation in education; School integration; East Texas State University -- Alumni and alumnae; Minneola (Tex.); Alpha Kappa Alpha Sorority; Oral Histories;
Keywords
homecoming queens; Alpha Phi Kappa; Afro-American Student Society of East Texas; ASSET; Texas A&M University-Commerce; TAMUC; ETSU
COinS
Rights Statement