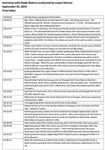 Description
This is an index of an oral history interview with Clyde Waters. It was conducted September 25, 2019. The interviewer is Louise Skinner. The videographer is Sandy Bond.
This interview focuses on Clyde Waters' memories of life in Cooper, Texas.
Clyde Waters was born in 1930 to Zettie Glaspie and Clyde Monroe Waters. He grew up in Cooper, Texas and graduated from high school in 1948. Waters recalls the history of the Delta County Poor Farm, stories about Bonnie and Clyde, and the construction of rural roads and highways.
In 1949, Waters joined the Texas National Guard. He then attended East Texas State Teachers College, now Texas A&M University-Commerce, and graduated with a bachelor's in Vocation Education in 1951. Waters was hired at Sheppard Air Force Base and later moved to Fort Sill, Oklahoma. Following the death of his father, Waters and his wife, Pat Longfellow, moved back to Cooper, Texas. Waters worked at E-Systems in Greenville, Texas for fifteen years until his retirement in 1992.
Department
Special Collections and University Archives
Identifier
2008-032_OH_01282_index
Recommended Citation
Waters, Clyde and Skinner, Louise, "Clyde Waters, Oral History Index" (2019-09-25). All Oral Histories. 72.
https://digitalcommons.tamuc.edu/scua-oral-history-all/72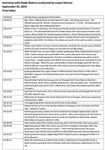 Subject
Cooper (Tex.); Delta County (Tex.); Almshouses; East Texas State Teachers College; Texas. National Guard; Sheppard Air Force Base (Tex.); Oral histories;
Keywords
Delta County Poor Farm; Texas A&M University-Commerce; TAMUC; ETSTC; Delta County Oral History Project
COinS
Rights Statement