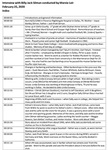 Description
This is an index of an oral history interview with Billy Jack Silman. It was conducted on February 25, 2020. The interviewer is Marcia Lair.
In this interview, Billy Jack Silman discusses his life in Delta County, Texas and his career as a barber.
Billy Jack Silman was born on August 21, 1944 to Jack Pratt and Joyce Bartley Silman. He was born in Dallas, Texas but grew up in Delta County, Texas. He shares memories of Silman's Grocery Store, the family business, where he and his brother worked at delivering groceries. In addition, Silman discusses playing Little League baseball, how he met his wife Linda Conway Silman, as well as fishing and golfing with his father.
After graduating from Cooper High School in 1962, Silman began attending East Texas State College. He struggled with his classes and eventually dropped out to attend barber school, where he became certified as a master barber. Silman discusses his experiences working in and owning barbershops. In addition, Silman worked at East Texas State University in the Maintenance Department for twenty-five years.
Department
Special Collections and University Archives
Identifier
2008-032_OH_01280_index
Recommended Citation
Silman, Billy Jack and Lair, Marcia, "Billy Jack Silman, Oral History Index" (2020-02-25). All Oral Histories. 59.
https://digitalcommons.tamuc.edu/scua-oral-history-all/59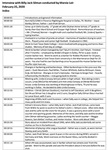 Subject
Delta County (Tex.); Barbers; Barbershops; East Texas State College -- Students; East Texas State University; Oral histories;
Keywords
Delta County Oral History Project; Texas A&M University-Commerce; TAMUC; ETSC; ETSU
COinS
Rights Statement