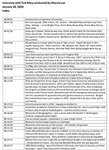 Description
This is an index of an oral history interview with Ted Alley. It was conducted on January 28, 2020. The interviewer is Marcia Lair.
This interview focuses on Ted Alley's life in Delta County, Texas, his service in the U.S. Army during the Vietnam War, and his career as a mortician operating the Delta Funeral Home.
Ted Alley was born to Wendell and Doris Lee Toon Alley on January 28, 1948. Alley recalls memories of attending schools in Delta County, Texas, including typing class and playing the knife game mumblety-peg.
In 1967, after his graduation from high school, Alley joined the Army. He went to Fort Polk, Louisiana for basic training and then to Fort Rucker, Alabama where he trained as a helicopter mechanic. Alley served in Vietnam for one year where he flew on a "smoke ship" helicopter. Years later, Alley reunited with the pilot and door gunner to visit the helicopter on display at a New York American Legion Post. When Alley returned home from Vietnam, he married Lyn Newman.
In 1970, following his discharge from the Army, Alley began attending East Texas State University. After Lyn's father, owner of the Delta Funeral Home, passed away, Alley began working part time at the funeral home. He completed a program at the Dallas Institute of Funeral Services and eventually obtained his morticians license. He bought the Delta Funeral Home from Lyn's mother in 1979 and provided funeral services to the community for forty-two years.
Department
Special Collections and University Archives
Identifier
2008-032_OH_01271_index
Recommended Citation
Alley, Ted and Lair, Marcia, "Ted Alley, Oral History Index" (2020-01-28). All Oral Histories. 49.
https://digitalcommons.tamuc.edu/scua-oral-history-all/49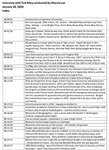 Subject
Delta County (Tex.); Vietnam War, 1961-1975; United States. Army; Undertakers and undertaking; Funeral homes; Oral histories;
Keywords
morticians; Delta County Oral History Project
COinS
Rights Statement