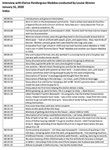 Description
This is an index of an oral history interview with Clarice Pendergrass Maddox. It was conducted January 31, 2020. The interviewer is Louise Skinner. The videographer is Sandy Bond.
This interview focuses on Clarice Pendergrass Maddox's memories of life in Delta County, Texas over 100 years.
Clarice Pendergrass Maddox was born in 1921 to Marvin Felon and Eva Bush Pendergrass. Her parents were cotton and corn farmers. Their family was poor and Maddox recalls canning fruits and vegetables, washing clothes with a washboard, and her first car ride. She graduated from high school in Enloe, Texas in 1939. The following year she married Tommie Calvin Maddox and the couple had two sons.
Maddox also discusses the Civilian Conservation Corps, the implementation of electricity, and life during World War II.
Department
Special Collections and University Archives
Identifier
2008-032_OH_01269_index
Recommended Citation
Maddox, Clarice Pendergrass and Skinner, Louise, "Clarice Pendergrass Maddox, Oral History Index" (2020-01-31). All Oral Histories. 36.
https://digitalcommons.tamuc.edu/scua-oral-history-all/36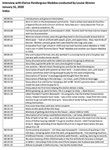 Subject
Delta County (Tex.); Cotton growing; Rural electrification; Civilian Conservation Corps (U.S.); World War, 1939-1945; Oral histories;
Keywords
World War II; Delta County Oral History Project
COinS
Rights Statement