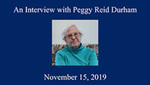 Title
Peggy Reid Durham, Oral History
Description
This is a video recording of an oral history interview with Peggy Reid Durham. It was conducted November 15, 2019. The interviewer is Louise Skinner. The videographer is Sandy Bond.
This interview focuses on Peggy Reid Durham's memories of life in Pecan Gap, Texas.
Peggy was born in 1935 to John and Coye Young Reid. She grew up in Pecan Gap, Texas where her father and grandfather owned a grocery store. She recalls the local businesses in the area, her memories of Saturday night entertainment, and their family's first indoor toilet and bathtub. In addition, Durham discusses her father making Slang Jang, a dish that originated in Honey Grove, Texas.
She lived most of her life in Pecan Gap, except for ten years that she spent in West Texas. She also worked with the Delta County Public Library.
Department
Special Collections and University Archives
Identifier
2008-032_OH_01267_interview
Recommended Citation
Durham, Peggy Reid and Skinner, Louise, "Peggy Reid Durham, Oral History" (2019-11-15). All Oral Histories. 33.
https://digitalcommons.tamuc.edu/scua-oral-history-all/33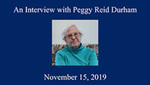 Subject
Delta County (Tex.); Fannin County (Tex.); Pecan Gap (Tex.); Oral histories;
Keywords
Slang Jang; Delta County Oral History Project
COinS
Rights Statement