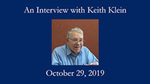 Title
Keith Klein, Oral History
Description
This is a video recording of an oral history interview with Keith Klein. It was conducted October 29, 2019. The interviewer is Louise Skinner.
This interview focuses on Keith's memories of growing up in East Texas and serving in the Army during WWII.
Keith Klein was born in 1944 to Buster and Mozelle Foster Klein. His father was stationed at Majors Field in Greenville, TX and worked as a B-29 mechanic and cook through the end of World War II. His family lived in the barracks. After leaving the military, his parents worked at country clubs in Cooper and Greenville, before buying Patterson Catering Service. The catering service was located in the old train depot and Klein worked alongside his parents. Their biggest job was catering for a crew in Paris, Texas who were filming the 1960 movie Home from the Hill.
After high school, Klein attended East Texas State University for one year until he was drafted into the Army. Klein trained as a helicopter mechanic and served in Ethiopia, Sudan and Liberia. He returned home in 1967 and taught at Spartan School of Aeronautics in Tulsa, Oklahoma. He married Frances Whitlock a year later.
Klein was able to finish his education at East Texas State University. He went on to teach at Sul Ross.
Department
Special Collections and University Archives
Identifier
2008-032_OH_01262_interview
Recommended Citation
Klein, Keith and Skinner, Louise, "Keith Klein, Oral History" (2019-10-29). All Oral Histories. 27.
https://digitalcommons.tamuc.edu/scua-oral-history-all/27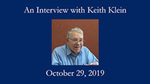 Subject
Majors Field (Greenville, Tex.); Hunt County (Tex.); Delta County (Tex.); Catering and hospitality; Home from the hill (Motion picture); World War, 1939-1945; United States. Army; East Texas State University; Oral histories;
Keywords
World War II; helicopter mechanics; ETSU; TAMUC; Texas A&M University-Commerce; Delta County Oral History Project
COinS
Rights Statement