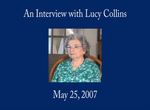 Title
Lucy Collins, Oral History
Description
This is a video recording of an oral history with Lucy Collins. It was conducted on May 25, 2007 in her home. The interviewer is Glenn Gainer.
In this interview, Lucy Collins discusses growing up in the Philippines during World War II and what life was like living under Japanese occupation.
On August 15, 1926, Lucy Hodges Collins was born in Manila Field in the Philippine Islands. Although her family planned to relocate to the United States, they were not able to leave the Philippines before Japan invaded. Her father was taken to a prison camp, but Collins and her mother and sisters continued to live at their home. When they were allowed to visit her father, they brought him essential supplies and smuggled him notes.
In July 1945, following Japanese occupation, Collins and her family came to the U.S., settling on land in Quinlan, Texas. Collins graduated high school in 1946. She worked for her aunt and uncle in Lubbock, Texas and briefly lived in California before returning to Quinlan. She married Cornelius Collins on June 3, 1947 and they had two daughters.
Department
Special Collections and University Archives
Identifier
2008-032_OH_00764_interview
Recommended Citation
Collins, Lucy and Gainer, Glenn, "Lucy Collins, Oral History" (2007-05-25). All Oral Histories. 2.
https://digitalcommons.tamuc.edu/scua-oral-history-all/2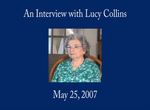 Subject
Oral histories; World War, 1939-1945 -- Personal narratives, American; Philippines; Japan; Internment camps;
COinS
Rights Statement