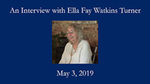 Title
Ella Fay Watkins Turner, Oral History
Description
This is a video recording of an oral history interview with Ella Fay Watkins Turner. It was conducted May 3, 2019. The interviewer is Louise Skinner. The videographer is Sandy Bond.
This interview focuses on Ella Fay Watkins Turner's memories of growing up in Delta County, Texas.
Turner was born in 1936 to Lillie Pierce and Jim R. Watkins. Her family moved to Cooper, Texas following the death of her father. Turner discusses her memories of the downtown square in Cooper, the price of school lunches, her first car, and going to see movies.
Turner married her husband George Turner in 1959, and they moved to Dallas, Texas. They lived and worked in Dallas for thirty-five years before returning to Cooper, Texas. Turner also recalls the medical difficulties her husband faced and his experience with dialysis and a kidney transplant.
Department
Special Collections and University Archives
Identifier
2008-032_OH_01251_interview
Recommended Citation
Turner, Ella Fay and Skinner, Louise, "Ella Fay Watkins Turner, Oral History" (2019-05-03). All Oral Histories. 17.
https://digitalcommons.tamuc.edu/scua-oral-history-all/17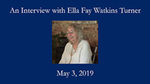 Subject
Cooper (Tex.); Delta County (Tex.); Kidney -- Transplantation; Dialysis; Oral histories;
Keywords
Delta County Oral History Project
COinS
Rights Statement