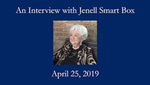 Title
Jenell Smart Box, Oral History
Description
This is a video recording of an oral history interview with Jenell Smart Box. It was conducted April 25, 2019. The interviewer is Louise Skinner. The videographer is Sandy Bond.
This interview focuses on Janell Smart Box's memories of growing up in Delta County, Texas.
Janell Smart Box, an only child, was born in 1924 to Earl E. and Gladys Bell Small. She grew up in Cooper, Texas, and recalls the bustling businesses. It was at a time when the Cooper Square was bustling-full of businesses and activities. She spent Saturday nights on the square as well as visiting cousins and attending parties in the country. Box attended Craig-Tranquil School then later graduated from Cooper High School.
During WWII, Box worked at a photography studio at Hooten Drug Store where many of her customers were soldiers from Camp Maxey in Paris, Texas. She also communicated via letters with her husband Buford who was serving in the Signal Corps. Later, she became involved in selling antiques and collectibles, expanding her business to Canton, Texas, where she bought a store at the Canton Trade Days and operated it for twenty years.
Box recalls the changes to the local community over the years. She discusses her first traffic ticket, going to the movies, and fishing near Charleston. She also recalls competing in a 1954 contest at Toy Cain's Dry Goods Store, where she came in second and won a washer and dryer.
Department
Special Collections and University Archives
Identifier
2008-032_OH_01250_interview
Recommended Citation
Box, Jenell Smart and Skinner, Louise, "Jenell Smart Box, Oral History" (2019-04-25). All Oral Histories. 15.
https://digitalcommons.tamuc.edu/scua-oral-history-all/15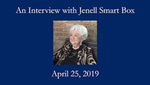 Subject
Cooper (Tex.); Delta County (Tex.); Canton (Tex.); World War, 1939-1945; Antiques; Oral histories;
Keywords
World War II; Canton Trade Days; Delta County Oral History Project
COinS
Rights Statement