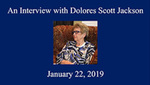 Title
Dolores Scott Jackson, Oral History
Description
This is a video recording of an oral history interview with Dolores Scott Jackson. It was conducted January 22, 2019. The interviewer is Gwendolyn Savage. The videographer is Jeremy Glossup.
This interview focuses on Dolores Jackson's memories of growing up in Delta County, Texas.
Dolores Jackson was born in 1939 and raised in Charleston, Texas. Her parents were Jack and Glenna Oats Scott. She has fond memories of growing up in Charleston, the family dairy, and school. Following graduation Jackson attended East Texas State College, now Texas A&M University-Commerce. She graduated in 1960 and married Roy Lee Jackson. The couple moved to Grand Saline, Texas, where Jackson worked as a teacher and her husband worked for Morton Salt. Five years later they moved back to Charleston.
Jackson saw many changes in her community over the years, remembering the poor roads and the development of electricity and water supplies. Jackson worked as an educator and is proud of her students' accomplishments. Following her retirement from teaching, Jackson continued to be involved with the community through volunteering.
Department
Special Collections and University Archives
Identifier
2008-032_OH_01249_interview
Recommended Citation
Jackson, Dolores Scott and Savage, Gwendolyn, "Dolores Scott Jackson, Oral History" (2019-01-22). All Oral Histories. 13.
https://digitalcommons.tamuc.edu/scua-oral-history-all/13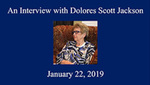 Subject
Teachers; Schools; East Texas State College; Charleston (Tex.); Grand Saline (Tex.); Delta County (Tex.); Oral histories;
Keywords
ETSC; Texas A&M University-Commerce; TAMUC; Delta County Oral History Project
COinS
Rights Statement