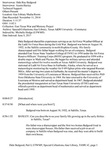 Description
This is part one of a two part index of an oral history interview with Dale Ray Bedgood. It was conducted November 11, 2014. The interviewer is Austin Baxley.
In this interview, Dale Ray Bedford discusses his service as an Air Force Weather Officer during the Cold War and his career as the head of the Department of Mathematics at East Texas State University.
Captain Dale Ray Bedgood was born on August 10, 1932 and grew up in the Saltillo community in northern Hopkins County, Texas. Following his graduation from high school in 1954, he enrolled in East Texas State Teachers College (ETSTC), now Texas A&M University-Commerce. He also entered the Air Force ROTC program at ETSTC. Bedgood majored in Math and Physics, and graduated in 1954.
Bedgood's military service began with meteorology school for 12 months at ETSTC, where he learned to be a meteorologist for the Air Weather Service. In 1956 he was assigned to Ladd Air Force Base in Fairbanks, Alaska where he served as an Air Force Weather Officer. After active duty, Bedgood transitioned to the reserves.
Bedgood received his Master's degree in Mathematics from the University of Arkansas at Fayetteville in 1959. While studying in Fayetteville he met Betty Langford whom he married. Bedgood taught at Northeast Louisiana State University (NLSU) until he entered the doctoral program at Oklahoma State University. In 1964 he earned his Ph.D. in Mathematics and also retired from the military reserves. Bedgood returned to NLSU and became head of the Math Department in 1965 for two years before returning to East Texas State University. He retired in 1995 and was named Professor Emeritus.
Department
Special Collections and University Archives
Identifier
2008-032_OH_01142-01_index
Recommended Citation
Bedgood, Dale Ray and Baxley, Austin, "Dale Ray Bedgood, Oral History Index, Part One of Two" (2014-11-11). All Oral Histories. 100.
https://digitalcommons.tamuc.edu/scua-oral-history-all/100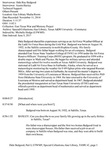 Subject
Cold War; United States. Air Force; Military meteorology; East Texas State Teachers College -- Alumni and alumnae; East Texas State University -- Faculty
Keywords
Emeritus Designation; East Texas War and Memory Project; ETWMP; Texas A&M University-Commerce; TAMUC; ETSTC; ETSU
COinS
Rights Statement