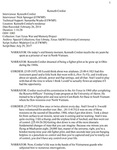 Description
This is the script for an Oral History Moment with Kenneth Cordier. An Oral History Moment is a small segment of clips from an oral history interview presented by a narrator. The interview was conducted October 28, 2013. The interviewer is Nick Sprenger. The script author is Madelyn Cox and the narrator is Allan Folsom.
In this interview, Kenneth Cordier discusses his career in the United States Air Force and his time as a prisoner of war in Vietnam.
Kenneth Cordier was born on February 16, 1937, in Canton, Ohio. He showed an interest in aviation as a child, building model airplanes and studying cardboard renderings of aircraft control panels until he knew how they worked.
Cordier attended the University of Akron, where he earned a Bachelor's Degree in Mechanical Engineering. He received a commission in the U.S. Air Force and began training as a fighter pilot. Cordier flew fifty-nine missions in Thailand before he was sent to Vietnam with the first wave of U.S. forces. He was shot down over North Vietnam and held as a prisoner of war for seven years in Hanoi. He describes how prisoners were prohibited from exercising, speaking above a whisper, or communicating with other prisoners. He says that his fellow prisoners devised a system of tapping to communicate.
Cordier was released in 1973 and re-enlisted in the Air Force when his term was up. He served in Germany and the United Kingdom, rising to the rank of Colonel before retiring in 1985.
Department
Special Collections and University Archives
Identifier
2008-032_OH_01083_OHM_script
Recommended Citation
Cordier, Kenneth; Sprenger, Nick; Folsom, Allan; and Cox, Madelyn, "Kenneth Cordier, Oral History Moment Script" (2014-02-26). All Oral Histories. 95.
https://digitalcommons.tamuc.edu/scua-oral-history-all/95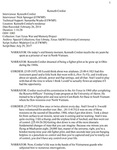 Subject
United States. Air Force; Vietnam War, 1961-1975; Prisoners of war -- United States; Prisoners of War -- Vietnam
Keywords
East Texas War and Memory Project; ETWMP
COinS
Rights Statement