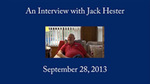 Title
Jack Hester, Oral History
Description
This is a video recording of an oral history interview with Jack Hester. It was conducted September 28, 2013. The interviewer is Courtney Crumpton.
This interview focuses on Jack Hester's service in the Marine Corps during World War II and his participation in the Battle of Iwo Jima.
Jack Hester was born in Snyder, Texas, on November 28, 1924. He graduated from Dumas High School in 1943 and enlisted in the Marine Corps eight days later. He completed basic training, then joined a parachute battalion which traveled to New Caledonia as part of a plan to invade Burma. The plan was never carried out. Hester's battalion was disbanded and he was sent to Hawaii.
Hester fought in the Battle of Iwo Jima for 36 days, after which America took the island. He witnessed the Marines raising the flag on the island, an event that has become an iconic symbol of World War II. Hester was sent to Japan as a weapons collector after Japanese forces surrendered in 1945, ending the war in the Pacific.
Jack Hester was discharged from the military on April 2, 1946, after which he went to college and earned a degree. He was a teacher and a coach at several schools in west Texas, before eventually taking a job at Texas Instruments.
Department
Special Collections and University Archives
Identifier
2008-032_OH_01048_interview
Recommended Citation
Hester, Jack and Crumpton, Courtney, "Jack Hester, Oral History" (2013-09-28). All Oral Histories. 85.
https://digitalcommons.tamuc.edu/scua-oral-history-all/85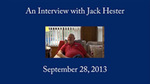 Subject
World War, 1939-1945; Iwo Jima, Battle of, Japan, 1945; United States. Marine Corps
Keywords
World War II; East Texas War and Memory Project; ETWMP
COinS
Rights Statement