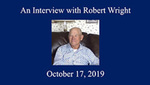 Title
Robert Wright, Oral History
Description
This is a video recording of an oral history interview with Robert Wright. It was conducted October 17, 2019. The interviewer is Marcia Lair.
This interview focuses on Robert Wright's memories of growing up in Delta County, Texas.
Robert Wright was born in 1941 to Virginia Dawson and Delbert Wright. He grew up in Cedar Creek, Texas. He began his education in a single room school in Cedar Creek until it consolidated with a school in Cooper, Texas. In 1955 his family moved to Klondike, Texas and in 1959 he graduated from West Delta High School. Wright recalls changes in transportation, the industrialization of farming, and local businesses such as Chandler's Store and Pollard Grocery Store. His spouse is Sue Wicks Wright.
Department
Special Collections and University Archives
Identifier
2008-032_OH_01284_interview
Recommended Citation
Wright, Robert and Lair, Marcia, "Robert Wright, Oral History" (2019-10-17). All Oral Histories. 77.
https://digitalcommons.tamuc.edu/scua-oral-history-all/77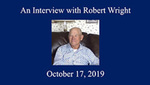 Subject
Delta County (Tex.); Cedar Creek (Tex.); Klondike (Tex.); Oral histories;
Keywords
Delta County Oral History Project
COinS
Rights Statement