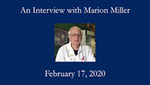 Title
Marion Miller, Oral History
Description
This is a video recording of an oral history interview with Marion Miller. It was conducted February 27, 2020. The interviewer is Marcia Lair. The videographer is Sandy Bond.
The interview focuses on Marion Miller's memories of growing up in Delta County, Texas, his career as a pharmacist and the history of the pharmaceutical business.
Marion Miller was born to Manton and Malverne Baker Miller on January 15, 1941. Miller began working at his father's pharmacy, Miller's Pharmacy, as a young boy. He and his siblings helped deliver orders and serve Saturday night crowds who came to visit the soda fountain. Miller shares his memories of Mabel Wheat, a milkshake maker who worked at the pharmacy for sixty years. He also recalls a visit from Duane Allen of the Oak Ridge Boys.
In 1969 he married Ann Ray Miller. He attended pharmacy school at the University of Texas where he graduated in 1974. In 1984, Miller bought the pharmacy from his father. He operated Miller's pharmacy until 2007. Throughout the interview, Miller discusses the history of pharmaceuticals, including changes in drug regulations, insurance, and commercial manufacturing of drugs.
Department
Special Collections and University Archives
Identifier
2008-032_OH_01276_interview
Recommended Citation
Miller, Marion and Lair, Marcia, "Marion Miller, Oral History" (2020-02-17). All Oral Histories. 67.
https://digitalcommons.tamuc.edu/scua-oral-history-all/67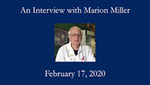 Subject
Pharmacists; Drugstores; Soda fountains; Delta County (Tex.); Oral histories;
Keywords
pharmacies; Delta County Oral History Project
COinS
Rights Statement