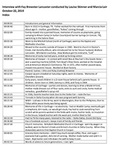 Description
This is an index of an oral history interview with Fay Brewster Lancaster. It was conducted October 22, 2019. The interviewers are Marcia Lair and Louise Skinner.
This interview focuses on Fay Brewster Lancaster's memories of growing up in Carthage, Texas and her adult life in Delta County, Texas.
Fay Brewster Lancaster was born to Otto and Ruby Cathey Brewster in 1922. Her father worked for the railroad in Carthage, Texas where they lived. Her memories of Carthage include learning to drive a Model A Ford, her mother making dresses out of flour sacks, and visiting her grandfather' syrup mill.
When Lancaster was 18, her family moved to Delta County, near Doctors Creek. She met Wallace "Lod" Lancaster and the two were married. She worked at various local businesses in Cooper and Commerce, Texas. The couple had three children, all of which were born in their two-bedroom house.
Department
Special Collections and University Archives
Identifier
2008-032_OH_01275_index
Recommended Citation
Lancaster, Fay Brewster; Lair, Marcia; and Skinner, Louise, "Fay Brewster Lancaster, Oral History Index" (2019-10-22). All Oral Histories. 55.
https://digitalcommons.tamuc.edu/scua-oral-history-all/55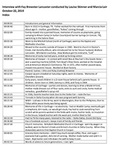 Subject
Delta County (Tex.); Carthage (Tex.); Doctors Creek (Tex.); Oral histories;
Keywords
Delta County Oral History Project
COinS
Rights Statement