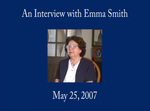 Title
Emma Smith, Oral History
Description
This is a video recording of an oral history interview with Marie Emma Smith. It was conducted on May 25, 2007 in her home. The interviewer is Glenn Gainer.
In this interview, Emma Smith discusses life in the Philippines, and living under Japanese occupation during World War II. She also talks about her journey to America, and building her life here.
Emma Smith was born on March 1, 1930, in Manilla, Philippines, in a Chinese hospital. Her father was American and her mother was Spanish. Smith and her siblings were raised in the Catholic Church.
When Japanese occupation of the Philippines began in 1941, Smith's father was imprisoned in an internment camp. Because of her mother's Spanish citizenship, Smith and her siblings were allowed to continue to live in their home. They ate fruit from their own trees and sold various items to survive.
In July 1945, following Japanese occupation, Smith and her family left for the United States. They settled in Quinlan, Texas. Smith graduated from high school in 1947 and married her husband in 1948. They raised five children together.
Department
Special Collections and University Archives
Identifier
2008-032_OH_00845_interview
Recommended Citation
Smith, Emma and Gainer, Glenn, "Emma Smith, Oral History" (2007-05-27). All Oral Histories. 4.
https://digitalcommons.tamuc.edu/scua-oral-history-all/4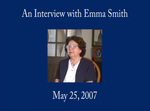 Subject
Oral histories; World War, 1939-1945 -- Personal narratives, American; Philippines History Japanese occupation, 1942-1945; Internment camps;
COinS
Rights Statement