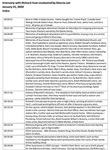 Description
This is an index of an oral history interview with Richard Huie. It was conducted January 21, 2020. The interviewer is Marcia Lair.
This interview focuses on Richard Huie's memories of local businesses in Delta County, Texas and his term as mayor of Cooper, Texas.
Richard Huie was born to Gordon and Ida Gunter Huie in 1946. He shares his memories of downtown Cooper, Texas and the local businesses in the area. He also recalls his memories of the first Black owned businesses in the area.
Huie served as mayor of Cooper for eight consecutive years starting in 1985. He shared the city's accomplishments during that time, including the construction of Cooper Lake and Big Creek Lake, the demolition of dilapidated buildings, and the construction of a new water treatment plant. Huie has four children and four step children and spent twelve years coaching Little League.
Department
Special Collections and University Archives
Identifier
2008-032_OH_01268_index
Recommended Citation
Huie, Richard and Lair, Marcia, "Richard Huie, Oral History Index" (2020-01-21). All Oral Histories. 34.
https://digitalcommons.tamuc.edu/scua-oral-history-all/34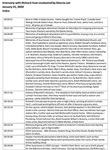 Subject
Delta County (Tex.); Cooper (Tex.); Cooper Lake (Tex.); Big Creek Lake (Tex.); Mayors; Oral histories;
Keywords
Little League coaches; Delta County Oral History Project
COinS
Rights Statement