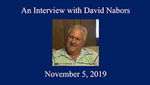 Title
David Nabors, Oral History
Description
This is a video recording of an oral history interview with David Nabors. It was conducted November 5, 2019. The interviewer is Marcia Lair.
This interview focuses on David Nabors' memories of growing up in Delta County, Texas and his knowledge of Delta County history.
David Nabors was born in 1946 and grew up in Lake Creek, Texas. He shares his knowledge of the history of Delta County, Texas, including information about Cooper Lake, cotton farming, local businesses, and development of roads and electricity in rural areas.
Nabors married Sharon Smart in September 1965 and was drafted into the Navy a few days later. He reported for duty in January 1966. Nabors was trained in communication equipment repair but a bone tumor in his knee kept him from going to Vietnam. He attended East Texas State University on the G.I. Bill and took classes with football players Harvey Martin and Dwight White.
Department
Special Collections and University Archives
Identifier
2008-032_OH_01265_interview
Recommended Citation
Nabors, David and Lair, Marcia, "David Nabors, Oral History" (2019-11-05). All Oral Histories. 31.
https://digitalcommons.tamuc.edu/scua-oral-history-all/31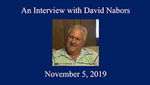 Subject
Delta County (Tex.); Lake Creek (Tex.); Cooper Lake (Tex.); Cotton growing; Rural electrification; United States. Navy; East Texas State University; Oral histories;
Keywords
ETSU; TAMUC; Texas A&M University-Commerce; Delta County Oral History Project
COinS
Rights Statement