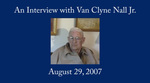 Title
Van Clyne Nall, Oral History
Description
This is a video recording of an oral history with Van Clyne Nall. It was conducted in his home on August 29, 2007. The interviewer is Glenn Gainer.
In this interview, Van Clyne Nall discusses his service in World War II, and his experience as a prisoner of war.
Van Clyne Nall was born in Tyler, Texas. He was inducted in to the Army after he finished high school and sent to Fort Hood, in Killeen, Texas. He was later stationed in Boston, Massachusetts, and was eventually deployed to Marseille, France.
Nall was captured by German troops in January of 1945 and was held as a POW until the war ended. At the end of the war, the Russian Army liberated the camp and a nearby village. American soldiers were on the opposite side of the river, but Nall was not allowed to join them. He commandeered a bicycle and rode until he found American troops.
Nall was taken to a military hospital where he was nursed back to health. He was shipped home from Le Havre, France, and landed at Newport News, Virginia. Nall took a train back to Texas where he spent a few months adjusting to life. After returning home, he attended Wheaton College in Wheaton, Illinois, and earned a degree in anthropology. Nall spent his life working in Christian ministry. He passed away on March 21, 2010.
Department
Special Collections and University Archives
Identifier
2008-032_OH_00823_interview
Recommended Citation
Nall, Van Clyne and Gainer, Glenn, "Van Clyne Nall, Oral History" (2007-08-29). All Oral Histories. 3.
https://digitalcommons.tamuc.edu/scua-oral-history-all/3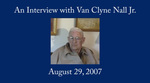 Subject
Oral histories; Prisoner of war; World War, 1939-1945 -- Personal narratives, American; United States. Army;
Keywords
World War II; POW
COinS
Rights Statement