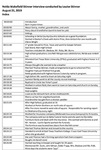 Description
This is an index of an oral history interview with Nelda Wakefield Skinner. It was conducted June 20, 2019. The interviewer is Louise Skinner.
This interview focuses on Nelda Wakefield Skinner's memories of growing up in Delta County, Texas and surrounding communities.
Nelda Wakefield Skinner was born in 1929 to May Roberts and T.A. "Lonzo" Wakefield. She attend school in Doctor's Creek, Texas until fifth grade when her family moved to Price, Texas. During her childhood she picked cotton on farms and worked at local businesses in Cooper, Texas. Following her graduation from Cooper High School, she married Thomas Skinner. The Skinner family started their own farm and hosted share croppers.
Skinner enrolled at East Texas State Teacher's College in Commerce, Texas. By the time she graduated with highest honors two and a half years later, it had become East Texas State University. She taught at Cooper schools for twenty-nine years.
Department
Special Collections and University Archives
Identifier
2008-032_OH_01253_index
Recommended Citation
Skinner, Nelda Wakefield and Skinner, Louise, "Nelda Wakefield Skinner, Oral History Index" (2019-08-21). All Oral Histories. 20.
https://digitalcommons.tamuc.edu/scua-oral-history-all/20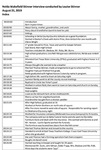 Subject
Cotton growing; Sharecropping; Delta County (Tex.); Cooper (Tex.); Teachers; East Texas State Teachers College; East Texas State University; Oral histories;
Keywords
ETSTC; ETSU; TAMUC; Texas A&M University-Commerce; Delta County Oral History Project
COinS
Rights Statement