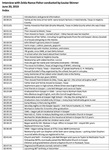 Description
This is an index of an oral history interview with Zelda Nance Fisher. It was conducted June 20, 2019. The interviewer is Louise Skinner. The videographer is Sandy Bond.
This interview focuses on Zelda Nance Fisher's memories of growing up in Delta County, Texas and surrounding communities.
Fisher was born in 1929 to Newton Edward and Minnie Tatum Nance. She was the youngest of a large tenant-farming family. To her family, she was known as "Winkle", and she remembers moving from farm-to-farm and school-to-school. Fisher shares stories about her parents, attending school, and her experiences during the Great Depression and WWII.
Fisher met her future husband J.C. Fisher on the square in downtown Cooper, Texas. In 1968 she began attending East Texas State University, now Texas A&M University-Commerce, at the same time as her son Stephen, who was attending the same college. Fisher retired in 1990 after working for thirty years in various Delta County schools.
Department
Special Collections and University Archives
Identifier
2008-032_OH_01252_index
Recommended Citation
Fisher, Zelda Nance and Skinner, Louise, "Zelda Nance Fisher, Oral History Index" (2019-06-20). All Oral Histories. 18.
https://digitalcommons.tamuc.edu/scua-oral-history-all/18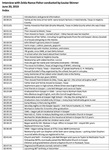 Subject
Cooper (Tex.); Delta County (Tex.); Great Depression; World War, 1939-1945; Teachers; Schools; East Texas State University; Oral histories;
Keywords
World War II; ETSU; TAMUC; Texas A&M University-Commerce; Delta County Oral History Project
COinS
Rights Statement