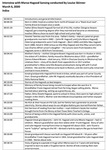 Marva Hagood Sansing, Oral History Index
Description
This is an index of an oral history interview with Marva Hagood Sansing. It was conducted March 6, 2020. The interviewer is Louise Skinner.
Marva Hagood Sansing was born in 1942 to Vergene Bowen and Elmo Dewitt Hagood. Sansing grew up on a farm north of Cooper, Texas, although her family moved to town when she was eight or nine. She discusses her family history, farm life, electricity, and childhood entertainment.
Sansing attended East Texas State University, now Texas A&M University-Commerce, and graduated in 1967. Following graduation, Sansing worked as an educator in Cooper ISD. She discusses dress codes, vocational programs, and the Gilmer-Aikin Law. Her husband is Ronnie Sansing.
This paper has been withdrawn.
Rights Statement