The Physical Exhibit
Students in the Fall 2021 HIST462/564 - Introduction to Public History mounted an exhibit at The Audie Murphy/American Cotton Museum in Greenville, Texas using reproductions of items in the Velma K. Waters Special Collections and University Archives. The exhibit installation was November 17-19 with a soft opening as part of the 25th Annual Cotton Symposium at the Audie Murphy on November 20. Students presented their work at the conference in the form of an Eyewitness to History panel and by answering questions in the physical exhibit itself.

Students not only learned about public history but how to "do history" for the public. The experience of item selection, background research, and physically designing (and mounting) their displays in confined spaces taught students many valuable skills outside of their usual mode of engagement with history. They not only had to apply the skills of a researcher but had to be flexible with what was available in the archives, what would physically fit into their space, how well they worked together (or not) as a group, and how to cut foam core, use spray adhesive, and adhere images for mounting. Producing a product for public consumption adds an additional layer of anxiety as the work is not just seen by a professor for a grade but is literally on public display.
Prepping the materials for display
Students spent one class week in the TAMUC Makerspace preparing their exhibit items for display and arranging their items.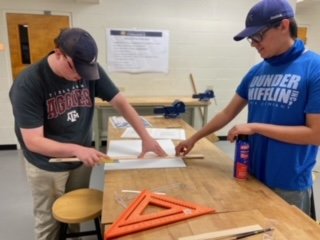 Students Bryant Lee and Jacob Whitehurst cut foam core to fit their exhibit items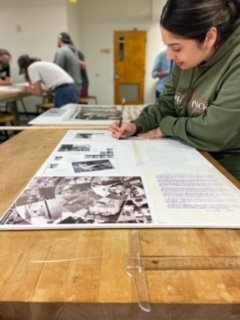 Student Kathy Aguirre arranges images on foam core to get the correct dimensions before cutting.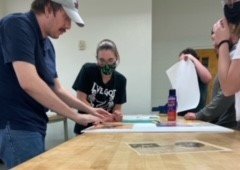 Students Andrew Fitzgerald and Delany Thomas adhere posters to the foam core.
Student Brandyn Hardie spraying adhesive to foam core board
The 25th Annual Cotton Symposium
On November 20, 2021, students presented their work at the conference in the form of an Eyewitness to History panel and by answering questions in the physical exhibit from conference attendees. Students had different roles on the day of the conference: panelist presenters, display guides, or members of the general conference population. It was a great way for them to experience their first academic conference, see other papers presented, meet local historians, and talk about their public history experience and research.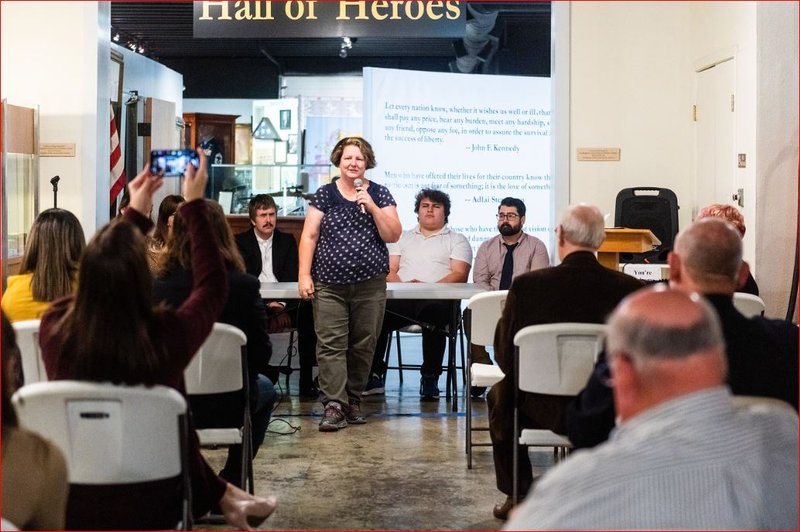 Susan Lanning, Director of the Audie Murphy/American Cotton Museum opening the 25th Annual Cotton Symposium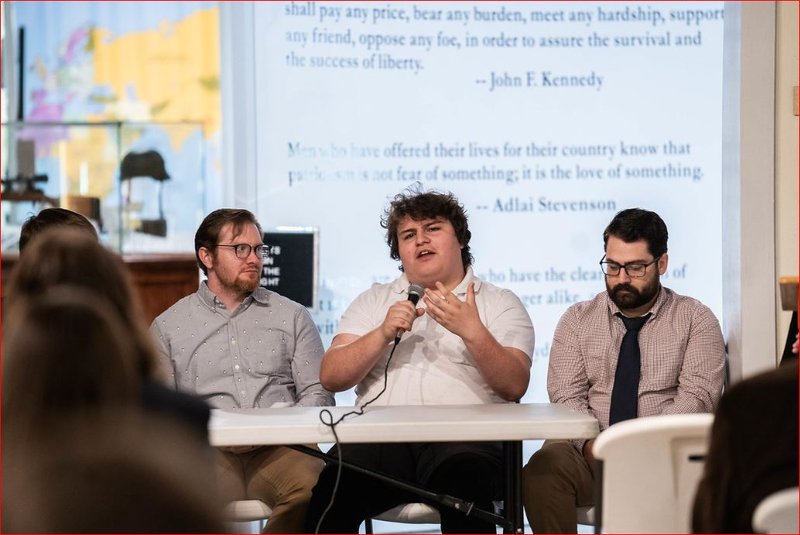 Students Brandyn Hardie, Matthew Wintz, and Micah Lambert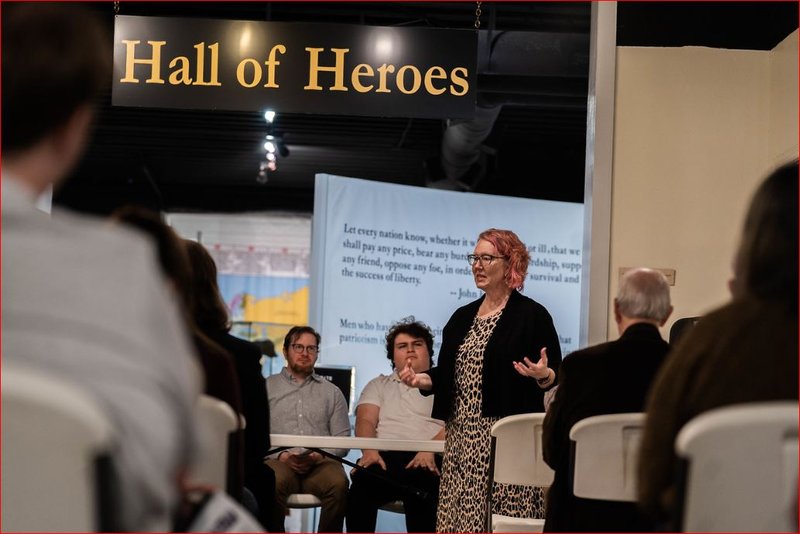 Dr. Mylynka Kilgore Cardona moderates the student roundtable. Students Brandyn Hardie and Matthew Wintz are also pictured.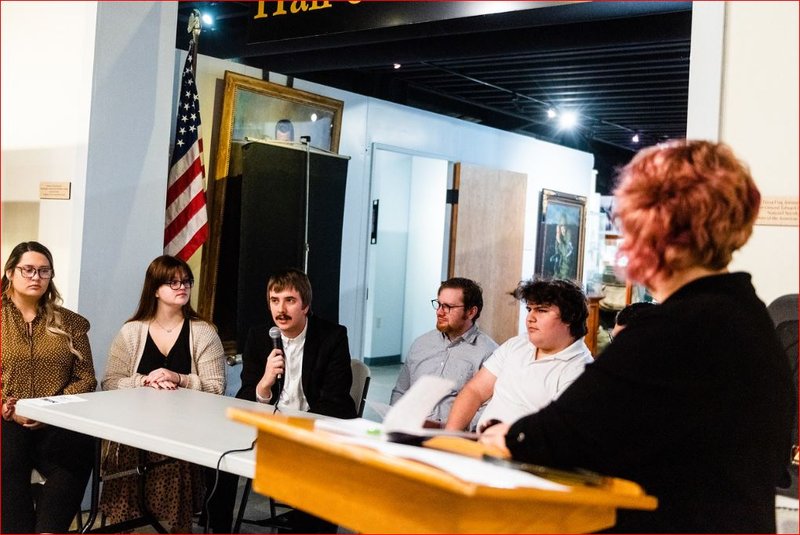 Johnna Carruth Morrow, Colleen Alleen, Andrew Fitzgerald, Brandyn Hardie, Matthew Wintz, Dr. Cardona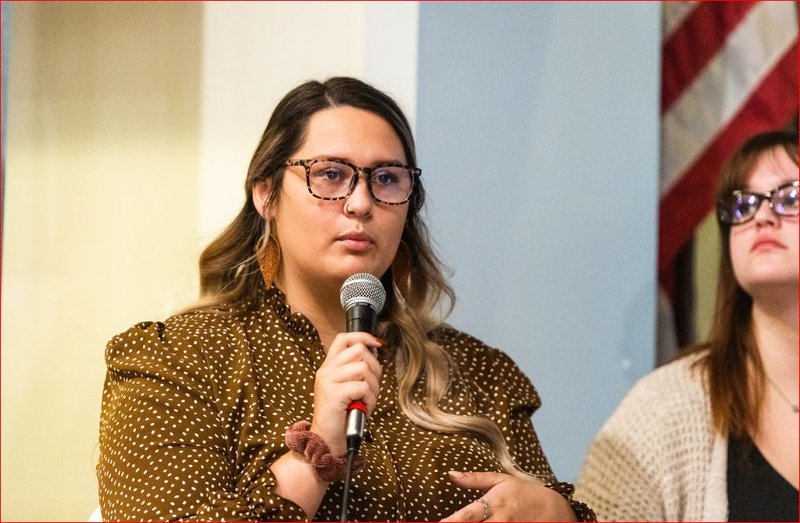 Johnna Carruth Morrow answers an audience question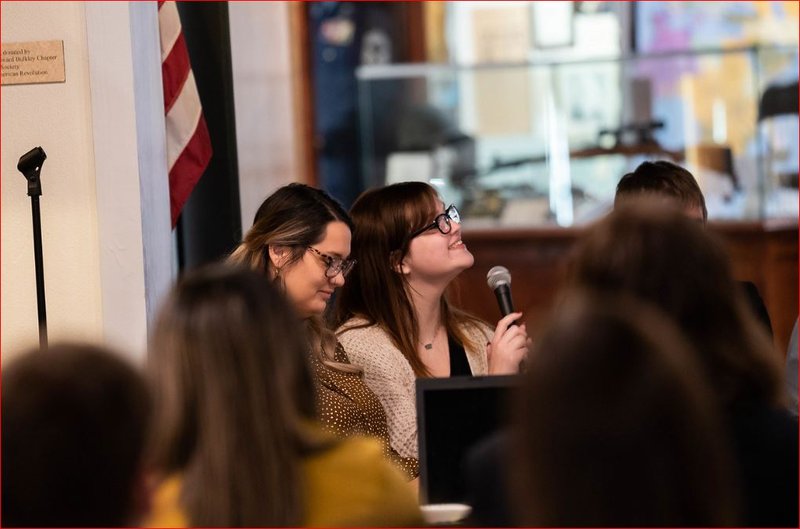 Colleen Allen answers a discussion prompt from Dr. Cardona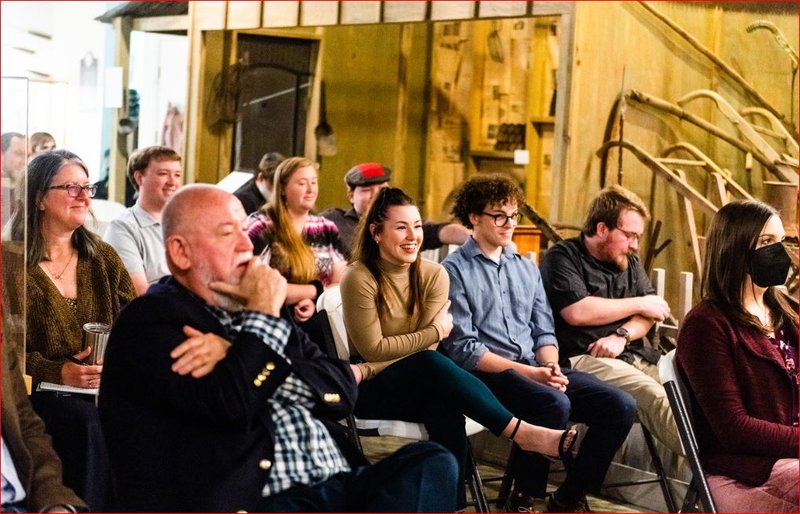 Public History students experience their first academic conference
Pictured: Dr. Cynthia Ross and students Bryant Lee, Dee Dunaway, Ethan Case, and Ryan Garland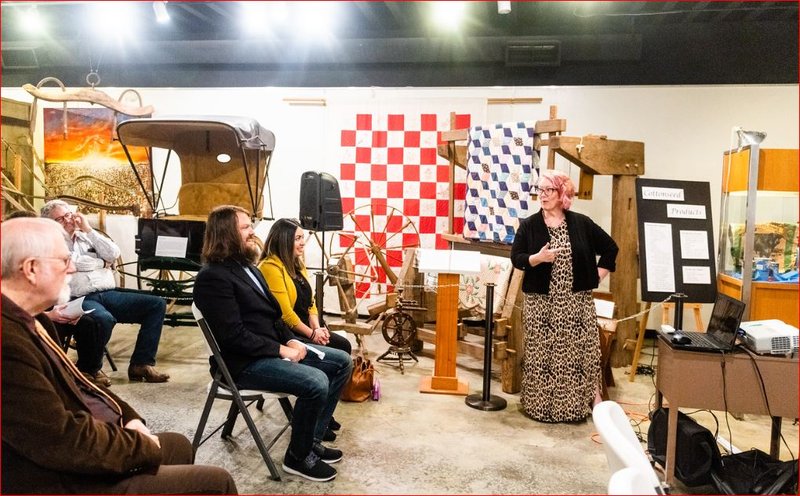 Dr. Cardona answers an attendee's question
Bryant Lee and Kathy Aguirre discuss their colleagues' work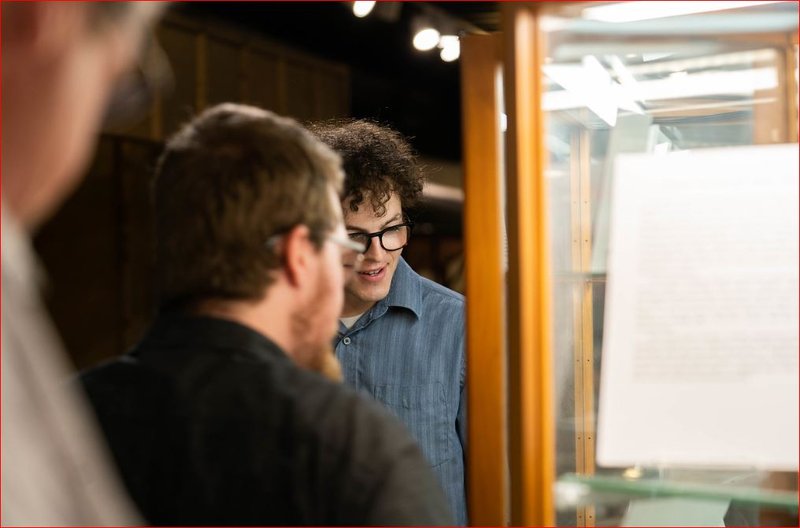 Ethan Case and Ryan Garland check out their section of the exhibit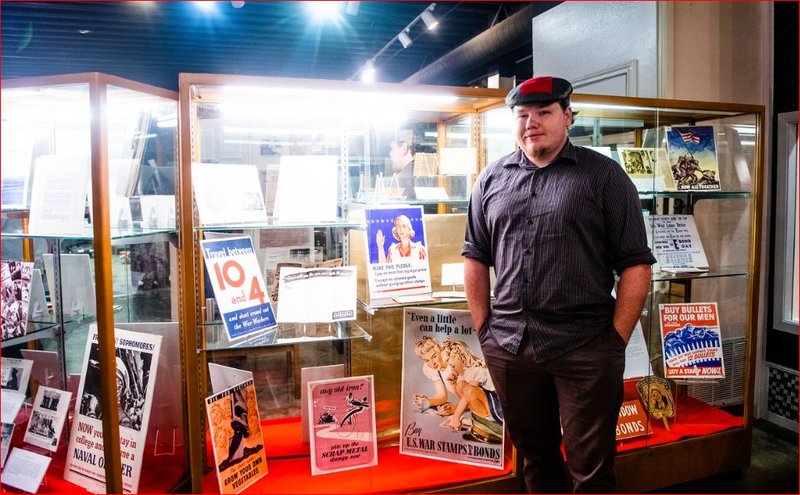 Ben Ruland and the Rationing case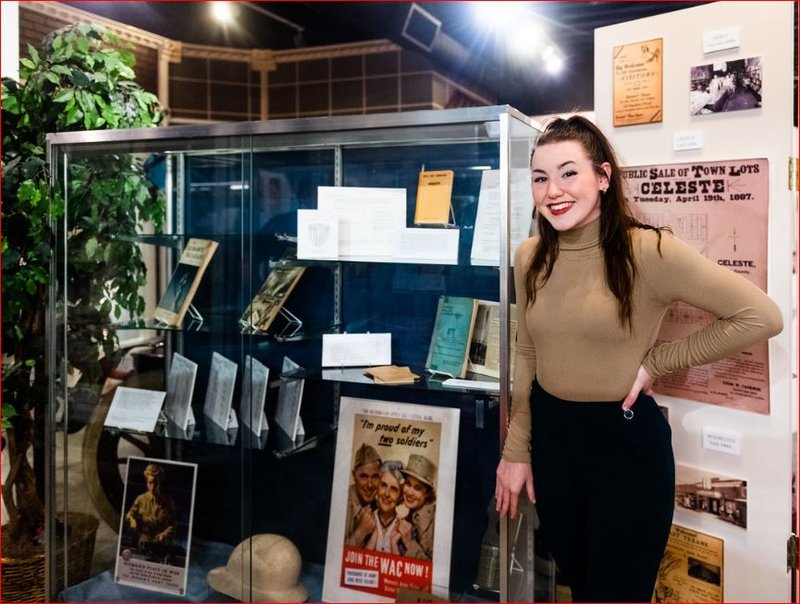 Dee Dunaway and the Military Training at ETSTC case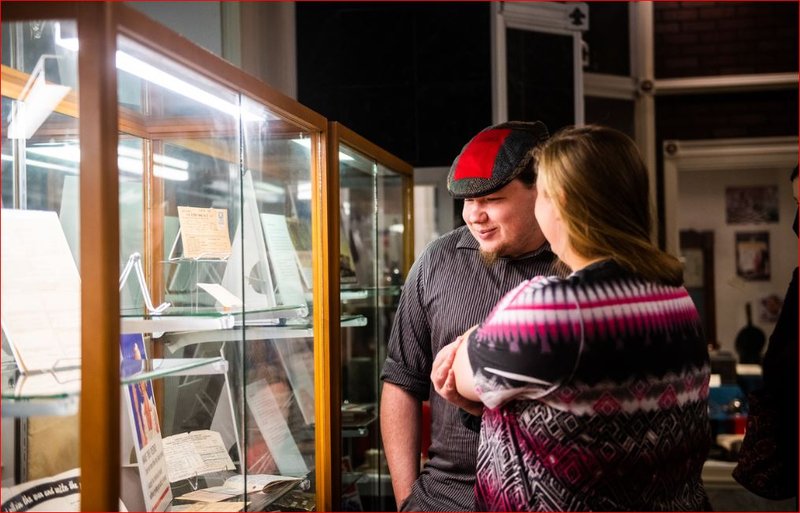 Ben Ruland and a conference guest enjoy the exhibit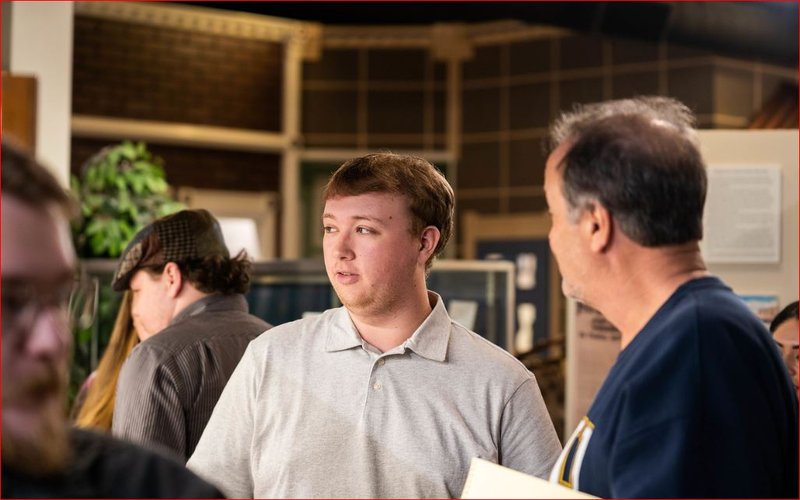 Bryant Lee answers questions about his work from a former history professor of his from Collin College
The Opening Reception
Audie Murphy Director Susan Lanning offered for the museum to be open late one evening to host an opening reception for the exhibit.
Approximately 85 people attended the opening reception, including the current President of the museum board and their incoming-President, important donors to the TAMUC History Department, the head of TAMUC Philanthropy and Engagement, a majority of the History Department Faculty, several of the department's Public History Certificate/Minor alumnae and their guests. Twenty-four students were in attendance and many brought their partners, parents, and/or friends as their guests. The opening was a fantastic success and it was such a great celebration of all of the hard work put into the exhibit.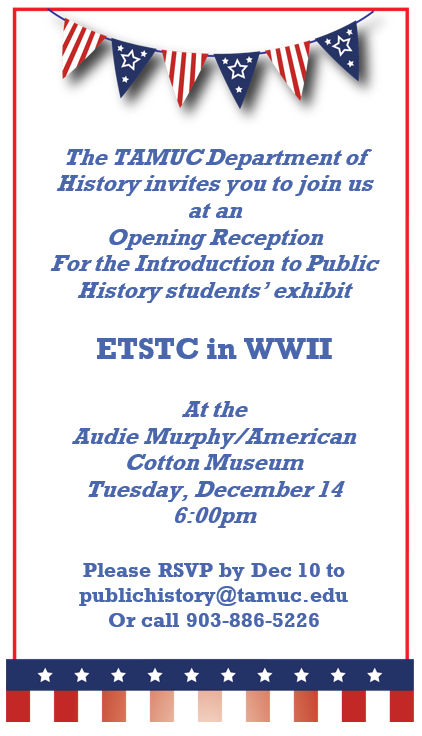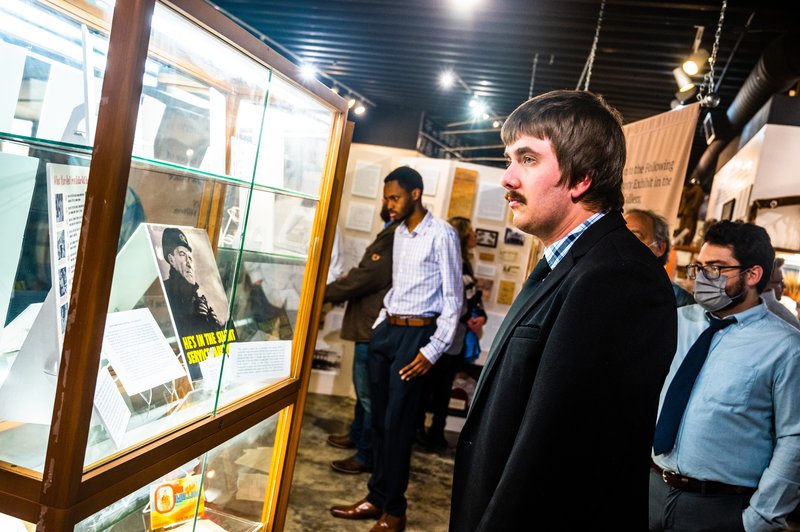 History graduate students (from L to R) Brian Fombuh, Andrew Fitzgerald, and Micah Lambert check out the Letters To/From Home display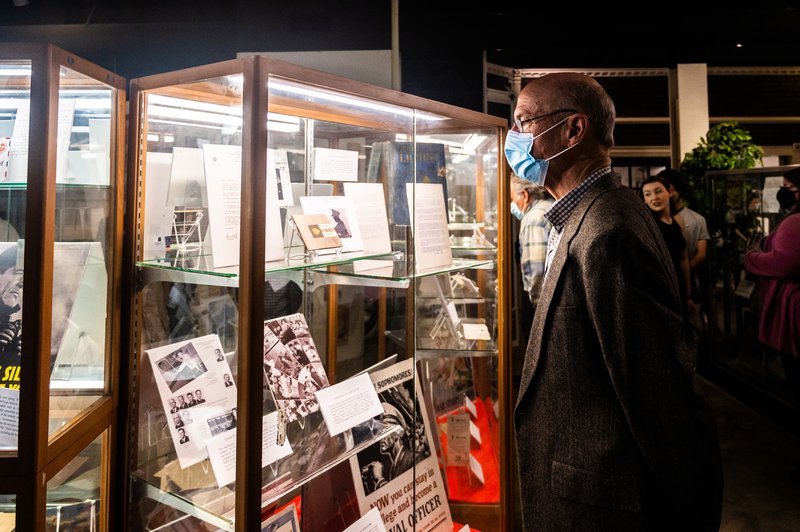 A reception guest stops to take in the Education display items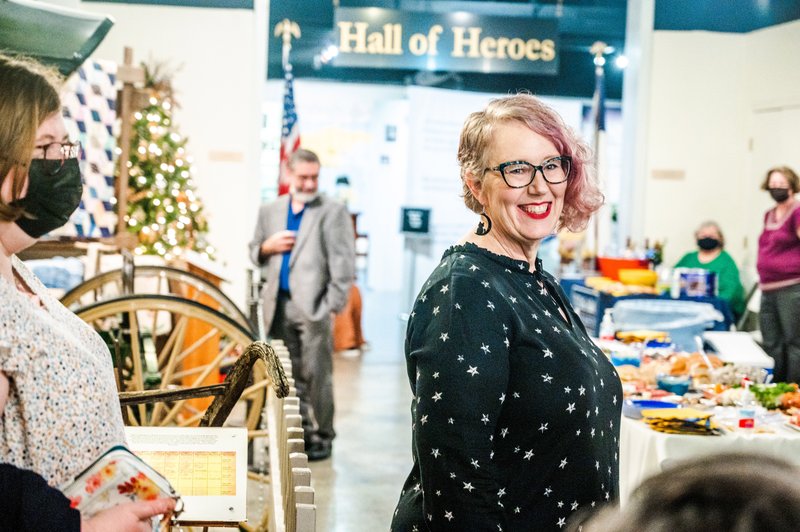 Dr. Mylynka Kilgore Cardona takes a moment to enjoy her students and their hard work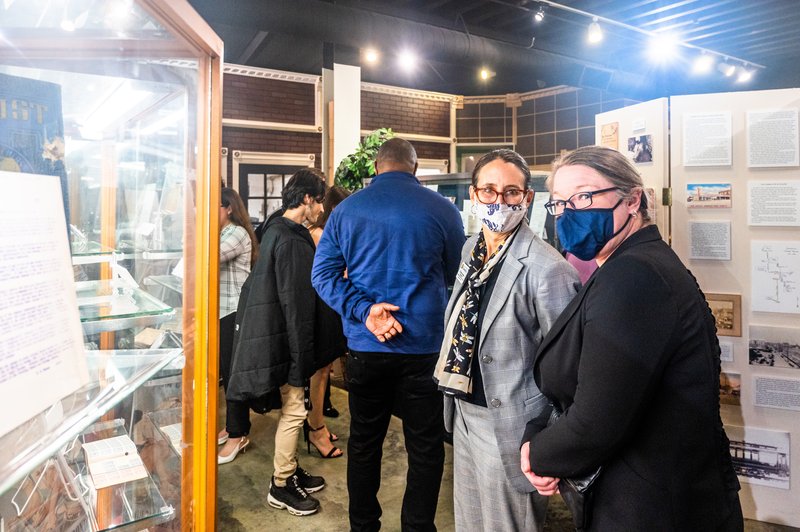 Drs. Sharon Kowalsky and Jessica Brannon-Wranosky enjoying the reception and exhibit
HIST462/564 - Introduction to Public History class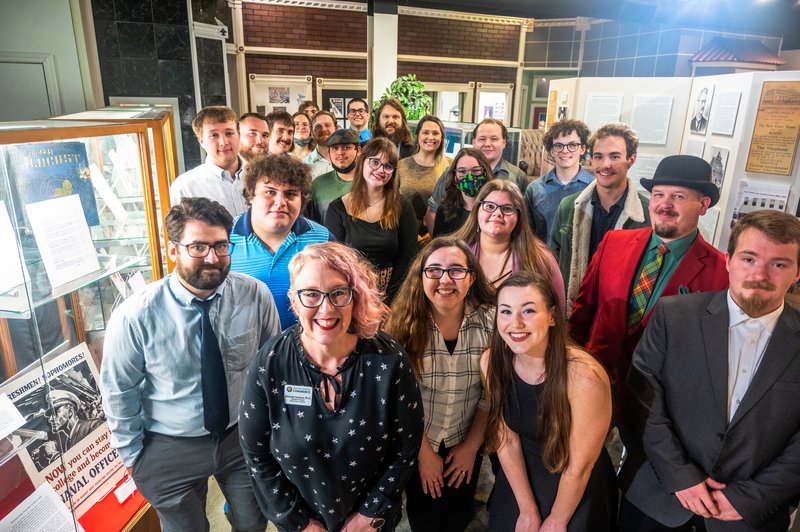 Dr. Cardona and the entire HIST462/564 - Introduction to Public History class with their exhibit at The Audie Murphy/American Cotton Museum